Circular Pattern Bars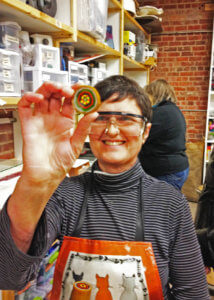 Circular Pattern Bars Workshop $295
Janet Wittenberg
Workshop: Sa, Su, Feb 1-2, 10am-2pm, Art Glass Studio
If you would like to learn how to create the look of concentric circles, or flower-like components, then this workshop is for you. We'll explore several different ways to create cylindrical pattern bars using a conventional kiln. You will create round pattern bars two different ways and incorporate some of the pattern bar cross sections
in a fused glass dish. Supplies included. Prerequisite:
First Time Fusers. Info: glasshabitat@glasshabitat.com. Minimum age 14. 2 sessions.
Classes
02/01/2020 - 02/02/2020
2 Sessions
10:00 am - 2:00 pm
7300 MacArthur Blvd.
Glen Echo, MD 20812,
Glen Echo MD United States